WordPress
Tracey Martinsen


I installed, designed and implemented this web site you are looking at now.
Tantalus


I also designed the corporate intranet for Tantalus Systems, and worked with a programmer to implement it. The result provided a useful page for tools and documentation, as well as being a "virtual water cooler" where staff could share news, see our installed base grow, watch training videos, and compliment their peers on a job well done.
The content for this site remains confidential; what you see here is the final cartoon from which the actual site was built.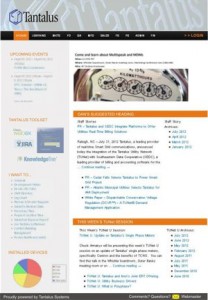 HTML Based Web Sites
My older web designs are straightforward, colorful, table-based HTML coded in Notepad.
The web clients who come my way choose to meet their very simple needs with a unique design at a reasonable cost. Many of my clients require only a "business card" site with some project summaries and a Contact page.
Web Site for Murray Gardner (2002 – present)
I designed, built, and now maintain www.mdgardner.com. Murray's site has driven a great deal of traffic into his business. The site has had over 100,000 visits since January 2005.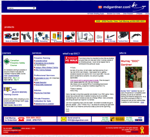 Murray Gardner is a Master-level competitive target shooter who guided the development of the Canadian Firearms Safety Courses. This site establishes Murray's professional credentials, advertises his coaching services and merchandise, and promotes a better understanding of the shooting sports.
Web Site for Double M Excavating (2008 – present)
I designed, built, and now maintain the website for Double M Excavating, an environmental and civil contracting business in the Fraser Valley.www.doublemexcavating.com
Web Site for Canada India Village Aid (2008 – present)
I designed, built, and now maintain the website for Canada India Village Aid, or CIVA, an independent non-profit charitable society based in Vancouver, BC. CIVA has operated since 1981 raising funds to support projects benefiting the people of rural India.www.civaid.ca
Web Sites Now Offline